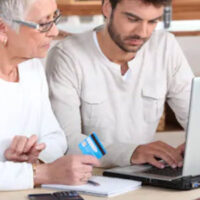 While many of us think about the financial exploitation of the elderly as a crime that is primarily committed by strangers, the reality is that financial abuse against seniors is being perpetrated at an alarming rate by family members. This type of illegal activity can have devastating financial consequences for its victims, so if you believe that a family member may be taking advantage of an elderly loved one, it is important to contact an experienced Walnut Creek elder law attorney who can ensure that your relative's interests are protected.
Common Methods of Financial Exploitation
Although financial fraud against the elderly is often committed by and against strangers, it is actually just as likely that elder financial abuse will be perpetrated by family members, including children, spouses, and grandchildren.
This type of financial exploitation can take a number of forms, including:
Misusing debit cards, credit cards, or checks;
Creating joint bank accounts that the relative can use at will;
Using power of attorney to control an elderly relative's assets;
Taking or giving away funds, property, or valuables without permission;
Cashing or signing pension or social security checks without the recipient's consent;
Borrowing money with no intention of repayment; and
Creating deed or title transfers to move funds and property from an elderly relative's possession.
In some cases, financial abuse can be directly linked to the relative's access to medical care. Some unscrupulous family members, for instance, deny needed care, such as medications, medical equipment, and treatment to an elderly relative in order to conserve funds. In addition to draining the senior's funds, this type of behavior also puts them at risk of serious injury or even death.
Signs of Financial Abuse
Financial abuse can be difficult to identify.
There are, however, a few warning signs that family members can keep an eye out for and that is usually indicative of fraud, including:
Notices of eviction or unpaid utility bills;
Unexplained withdrawals from or transfers to bank accounts;
Unusual bank activity, including inexplicable charges;
A lack of bank statements or canceled checks being sent to the senior's residence;
Missing assets or property;
Changes in an elderly relative's legal documentation, including power of attorney, wills, and trust documents;
Suspicious or unrecognizable signatures on checks and legal documents; and
Confused explanations from elderly relatives who don't understand financial transactions made on their behalf.
This type of activity is not always evidence of fraud. For instance, many seniors begin to lose their memory as they age, so it is not unusual for the elderly to misplace items or forget the details of a financial transaction. However, when there are multiple signs of irregular behavior or transactions on the part of an elderly relative, their loved ones would be wise to remain vigilant for other signs of financial exploitation.
Contact an Experienced Elder Law Attorney
If you believe that an elderly relative is being taken advantage of, there are a number of steps you can take to protect them, including everything from closing joint bank accounts and revoking powers of attorney to voiding transfer deeds and establishing conservatorships. To learn more about these options and how best to protect your elderly loved ones, please contact a dedicated elder law attorney at Feldman Law Group by calling (925) 208-4543 today.
Resource: