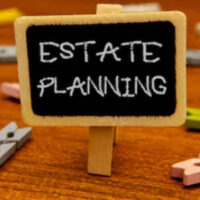 When someone receives a terminal health diagnosis or discovers that he or she must go through a vital surgery, it can cause a significant amount of stress. Additionally, day-to-day life will be seriously disrupted. With everything going through the sufferer's mind, the last thing he or she wants to talk about is estate planning.
The sufferer may have so many other things that he or she would rather do, during this critical time. However, it is important that the sufferer ensures that his or her estate plan is in order. Preemptive preparation can greatly assist ease the sufferer's mind and help his or her focus more on treatment or surgery.
Important Estate Plan Documents
The following significant components should be current and reflect all of the sufferer's present-day objectives and desires.
Healthcare Documents: Essential healthcare documents include the sufferer's advance healthcare directives, powers of attorney, and HIPAA authorization. The above documents allow sufferers to appoint someone to obtain updates and information about their medical conditions. Also, in cases where the sufferer is unable to do so, that person can make important medical decisions. The chosen loved one needs to be granted explicit authority to act on the sufferer's behalf.
A Power of Attorney for Finances: The financial power of attorney primarily pertains to the sufferer's money, bills, mortgages, investments, retirement accounts and taxes. Although different in nature from the health care designation, it is also extremely important. Giving the right trusted person, such as a spouse, parent, sibling or child, the authorization to make decisions regarding finances and property can help the sufferer concentrate on getting better.
An Updated Trust: Current and completely funded trusts allow sufferers to concentrate on their health while their trustee manages the affairs related to the trust. The trust may include all or a vast majority of the sufferer's estate. That way the sufferer can continue to obtain the benefit of their trust, but the trustee will put in work to maintain the trust.
In cases where there is not enough time to fully fund the trust, a current will can make certain that the sufferer's last wishes are implemented, and control who gets what assets at the time of the sufferer's death. When time is scarce, the sufferer might not have time to establish their trust and a will may be the only practical solution. Nevertheless, if sufferers already have a trust, it can be fairly simple to update and fund it.
Get Assistance with Your Estate Planning Documents
If you have received a terminal health diagnosis or are facing major surgery, it is important to get your estate plan in order. A knowledgeable and experienced estate planning lawyer will ease your mind during this stressful time so that you can focus on getting better.
Regardless of your health, we at Feldman Law Group can help you establish a complete estate plan that is meticulously crafted for your situation. You can count on our knowledgeable Walnut Creek estate planning attorneys to analyze your unique circumstances, discuss your wishes and aspirations, and work hard to develop a dependable strategy. Call today at (925) 208-4543 or contact us online to discuss more about your health event and estate planning needs.
Resource: