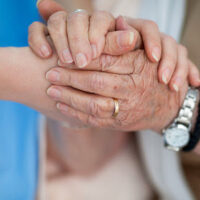 Making the decision that a loved one should be taken off their regular healthcare treatment is a difficult and emotional process. Hospice care means that all other medical treatment has failed, and there is no way that the patient's life can be saved. However, having comfort and control during the final days of your loved one's life can bring peace that is impossible to find in a traditional hospital setting.
How Hospice Differs From Regular Medical Care
The traditional healthcare system is designed to improve a patient's illness or injury. All measures are taken to save the individual's life. However, some medical conditions cannot be cured. When a patient's terminal illness prevents medicine and surgery from saving their life, they may be placed in hospice care. The singular goal of hospice care is not to save the patient's life, but to provide comfort care during the last days, weeks, and months of their life. This entails pain management medications; in-home care that includes bathing, clothing, and eating assistance; counseling; spiritual counseling; physical therapy; speech therapy; hospital equipment such as a bed; and more, according to the Mayo Clinic. Hospice care allows a terminally ill patient to pass away at home in the presence of their loved ones, as opposed to a hospital room. Spending weeks on end dying in a hospital can increase the patient's anxiety, depression, and dementia, whereas passing at home or in the home of their loved ones is a much more peaceful, calming setting.
What Services Does Hospice Provide?
Hospice care is made up of doctors, nurses, social workers, and in-home care providers. For eligible patients, Medicare pays for a private hospice company to provide daily care. While this care is available 24 hours a day and seven days a week by phone, nurses and in-home caregivers do not stay with the patients all day long. Hospice workers check in on the patient a few times a day. As such, a caregiver, who is usually a family member, or nursing staff/assisted living staff continues to provide the majority of care for the terminally ill patient. Hospice care also includes "respite" care, which moves the patient from their home, where hospice care is usually given, to a clinic, allowing the caretaker, who is usually a family member, relief from their normal caretaking duties and responsibilities.
How an Attorney Can Help. Call Our Walnut Creek Lawyer Today
If your elderly loved one or spouse has been admitted to hospice care, it usually means that healthcare professionals believe that they have less than six months to live. In some cases, patients do successfully get off hospice care if their condition drastically improves. Yet, it is important to take legal measures now before it is too late and your loved one passes away. An attorney can help draft or update the patient's living will as well as assist with power of attorney,  asset protection, and other estate planning measures. To speak with a Walnut Creek elder law attorney, call Feldman Law Group today at (925) 208-4543 to schedule a free consultation.
Resources:
mayoclinic.org/healthy-lifestyle/end-of-life/in-depth/hospice-care/art-20048050